Learn new skills to help communicate effectively every day
Speech therapy is all about helping your child to communicate. Our highly qualified and experienced team of speech-language therapist work together to offer a fun, stimulating, safe and caring environment for our clients and their families.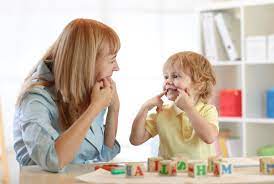 Speech Disorders:
Articulation and phonological disorders, Apraxia of speech , unclear speech, Stuttering and Voice disorders.
Language Disorders:
Late talkers, Receptive language disorders, Expressive language disorders.
Other Disorders:
Hearing loss, Oral/Motor disorders, Swallowing, Autism spectrum disorders, Attention Deficit, Dysarthria, Cleft lip/palate and Dyslexia.
Our Approach ?
Our teams of Speech therapists are able to administer a range of assessments to understand your child's areas of strength and development. Assessments may include formal standardized assessment or informal assessment through play, observation and conversation.
We take a holistic and evidence-based approach that is tailored to meet your child's needs .Our enthusiastic team will work with you and your child to find the right strategies to achieve life-changing outcomes.
Speech therapy is not just for helping children learn to speak clearly – we are experts in all aspects of communication, both spoken and written.