A Safe Transition into the Big Wide World
One of Hayati Health Center's principal reasons for being, is to see our children eventually transition into the world as functioning adults by learning the skills and expertise they will can use in higher education setting, working environments and generally in society.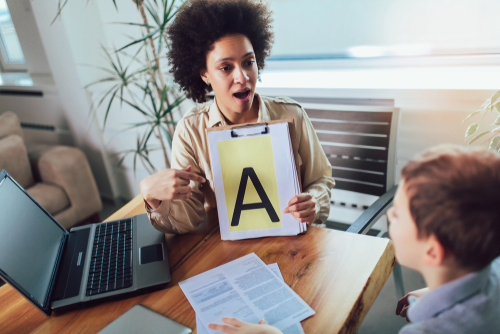 This curriculum focuses on a matrix of our domains, which are followed in our program:
Interpersonal & Self-Determination Skills
Telepractice (current situation with lockdowns)
Our Approach ?
The Vocational & Transitioning Program at Hayati Health Center is designed to educate teenagers and young adults of determination. The main focus of the program lies in promoting life skills and independence of its students. Though there is a set agenda/curriculum to be followed, the individual needs and interests of each student are taken into consideration while developing the program.
Vocational skills are empirical skills that individuals acquire in a specific area of interest. Vocational skills are practical by which individuals learn from hands-on experience and/or training.
Our program is developed using 'ASDAN', a well-known skills curriculum for special educational needs, offering programs and qualifications that explicitly grow skills for learning, skills for employment and skills for life.
We cater our vocational services to individuals aged 12 and above.
01.

How do I get health care when I need it?
You can visit HealSoul Health Services during office hours. Appointments are appreciated, but walk-ins are welcome as well. If possible, please make a call ahead before visiting. This will allow us to arrange services and reduce your waiting time. Hours are Monday through Friday, 9:00 a.m. to 4:30 p.m.
02.

Is there coverage for the elderly and juveniles?
Upon request, HealSoul Health Services staff will provide instructions for individuals whose medical conditions need special attention and additional certificates. Normally, we provide up-to-80%-off or free health care for these cases with specific diseases and illnesses specified by the law.
03.

What if I require lab tests to be performed?
HealSoul Health Services provide patients with choices to ask for the conducting and analyzing of several lab tests on-site at no cost for prioritized patients or at 70% for people with an insurance. Additional testing can be ordered off site; those costs are the responsibility of the enquirers.
04.

Are there Family Planning Services available?
Yes. Reproductive services are always available at HealSoul Health Services. Additionally, we also have an agreement in which all enrolled clients will only have to pay a nominal fee for the first visit for checkups. They will be exempt from this fee from their second visit.